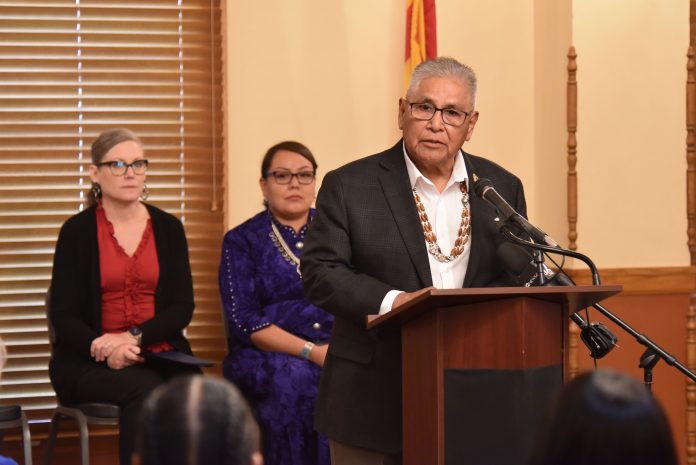 Arizona celebrated 111 years of statehood on Valentine's Day, February 14, and a Statehood Day Celebration was held at the Arizona Capitol Museum, on the third floor of the capitol, to mark the occasion.
"As your governor, I am proud to recognize today as Arizona Statehood Day with an official Proclamation," said Arizona Governor Katie Hobbs. The proclamation focused on the election of women to office, offering all citizens an opportunity to celebrate Arizona's natural beauty, and building an Arizona for everyone.
Those who were invited to speak were Governor Hobbs; Navajo Nation Council Speaker Crystalyne Curley; Arizona State University Professor Emeritus Dr. Christine Marin, founder of the Chicano/a Research Collection at Hayden Library; and Salt River Pima-Maricopa Indian Community Council Representative David Antone.
Antone, who is in his seventh year on the SRPMIC Council, opened the event with a land acknowledgement and a blessing.
"While this day marks the 111th birthday of the State of Arizona, it is also significant for the Akimel O'odham and the Xalychidom Piipaash, who have prospered in this region and are an integral part of our history," said Antone to the room of dignitaries, visitors and media. "This landscape is sacred, and it reflects the cultural values that are central to our way of life and the way we define ourselves. The oral history and the song culture of the people are specifically tied to places like the mountains that surround our valleys and are associated with specific historical, cultural and religious values and beliefs."
Antone said that it is important to acknowledge the homeland of the people who have inhabited this land since time immemorial, which continues to be spiritually connected to the people of the SRPMIC.
Since Arizona officially became a state in 1912, 24 people have held the office of governor. With the election of Governor Hobbs, Arizona now has had five female governors.
"Today is a celebration, a time to recognize the triumphs of Arizona, and it's also a time to reflect on our shared history. That starts by recognizing those who were on this land before us," said Hobbs. "Arizona is home to 22 federally recognized tribes and nations, all of which are integral parts of our past, present and future."
Hobbs then introduced Curley, the first female speaker of the Navajo National Council, which serves as the legislative branch of the tribal government.
"I want to thank the State of Arizona for welcoming us here as tribal nations, and I am honored to represent the 22 tribes today. We are the aboriginals of this land, and we are the stewards of this land," said Curley. "My great-grandmothers and my ancestors have lived and grazed this land for many generations, and it is an honor to be here as a woman leader to continue those visions, values and principles to this day."