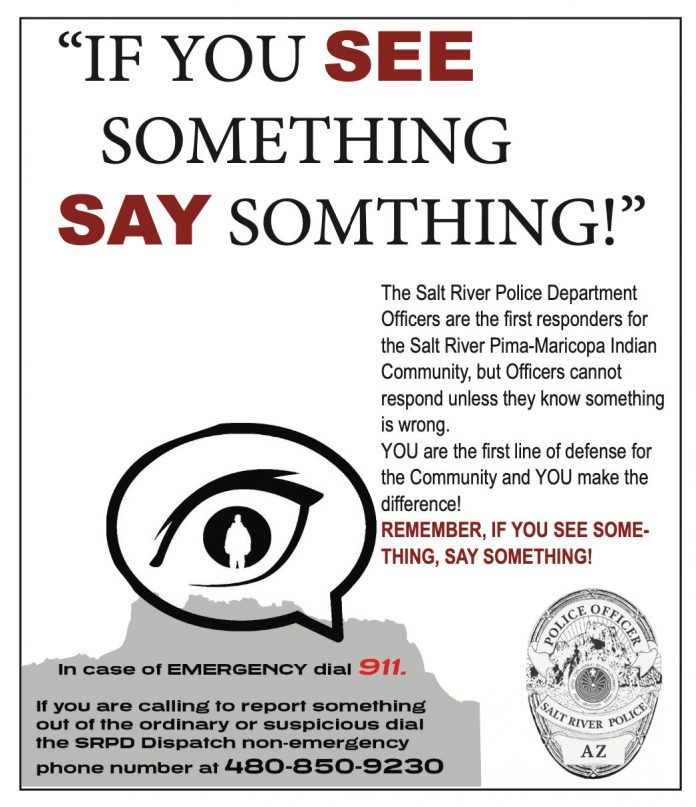 In a community awareness campaign, the Salt River Police Department is encouraging people to report suspicious persons or activity as part of the "See Something, Say Something!" program.
On Saturday, March 26, SRPD Lt. Travis Mathews gave a quick update to Salt River Pima-Maricopa Indian Community members at the District C meeting. He explained that the program has already had some success with preventing illegal dumping in the Community and recovering lost or stolen property from transients lingering along the borders of the Community.
"We had a Community member who saw something and asked the police department to go out there," said Mathews. "Someone was illegally dumping their trash. When officers responded, there were no suspects. But the officers found information from the person's mail. They were able to find an address and follow up with that person. After making contact with six people, including the person who dumped the trash, the officer was able to educate them on illegal dumping in the Community. The person who initially dumped their trash was charged with illegal dumping and made to come clean up the mess."
Another issue is with transients. As the surrounding cities push them out of their communities, they are moving towards the SRPMIC. Rangers often patrol the riverbed and washes around the Community, where they find transients in possession of stolen property from surrounding stores such as Walmart and Home Depot, explained Mathews.
"The SRPD is able to assist with helping the surrounding cities return stolen property and charge [the transients] with trespassing here in the Community," said Mathews.
Remember, If You See Something, Say Something! Call SRPD Dispatch Non-Emergency at (480) 850-9230 to report any disturbance, suspicious persons or suspicious activity in your area.
"Even if it is somebody in a vehicle moving from one place to another, we can go investigate it," said Mathews. "This can help prevent illegal dumping, someone stealing property or other crimes. We will be able to stop crime ahead of time."