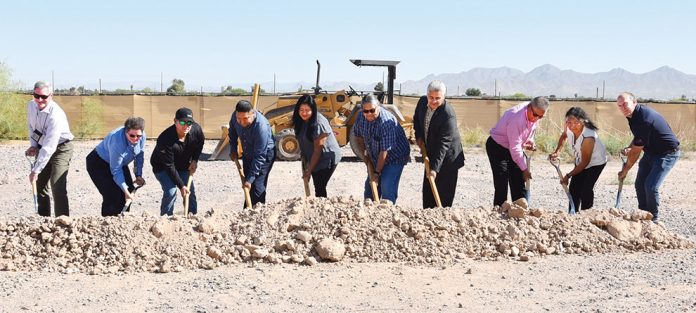 On May 17, the Salt River Pima-Maricopa Indian Community held the fourth new housing groundbreaking in recent weeks with the unveiling of plans for the Traditional & Temporary Housing units, which will be located at the northeast corner of the Two Waters north parking lot.
In total, there will be 31 single and double tiny living units, with the single unit measuring approximately 320 square feet and the double approximately 640 square feet.
Council members present at the groundbreaking were SRPMIC President Martin Harvier, Vice-President Ricardo Leonard, and Cheryl Doka, Michael Dallas, Diane Enos and David Antone.
Vice-President Leonard opened the event with a blessing, and President Harvier addressed what this new housing means to him.
"This development is really important for the Community members who are on their journey to recovery," said Harvier. "A lot of times there is nowhere for them to go when they finish their programs, and they're put right back in the environment that put them in the condition they are in. And now on their journey, this is going to offer them a place where they can come and adapt to their new way."
Enos said that the new housing is welcome in the Community, with the housing crisis that is going on across the country.
David Dallas of MayDall Construction, the contractor for the project, spoke about the new units coming off the assembly line.
"These homes are just comfortable enough to do what you need, but they're the right platform for this project, because you do want to get out. This is such a cool project because it is a transition option to help our Community members," said Dallas. The target date for completion of the project is the end of this year.