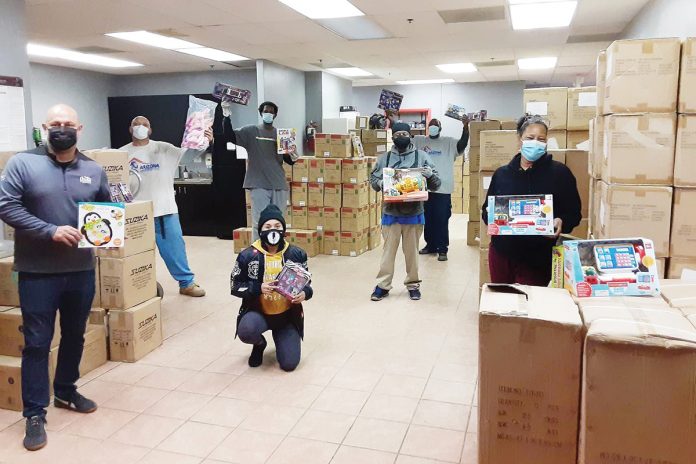 During the holiday season, the Salt River Pima-Maricopa Indian Community held a giveaway in which SRPMIC members were able to pick up holiday treats and T-shirts for the entire family. The drive-thru event was held on Monday, December 21, at the SRPMIC employee parking lot. The line of cars weaved throughout the parking lot and extended down Longmore Road all the way to Thomas Road.
In addition to the treats and T-shirts, a very special donation of 224 toys from the A.C. Green Youth Foundation and NABI Foundation brought even more holiday cheer to the SRPMIC youth.
"The NABI Foundation's CEO, GinaMarie Scarpa, was the former executive director for the A.C. Green Youth Foundation for almost 10 years and has had a positive relationship with A.C. Green since then. Therefore, A.C. Green reached out to the NABI Foundation to partner in this toy distribution to Native American communities in the Phoenix area," said NABI Foundation Director of Basketball Operations & Program Development Lynette Lewis. "A.C. Green has always been a big supporter of NABI, and this is a way to partner and contribute back to our Native communities."
The foundations identified the need for toys during the holiday season and decided to support local tribes in this time of hardship with COVID-19. The SRPMIC was one of those communities.
This was the first year the two foundations partnered, and as of now this toy donation was a one-time deal. But if the opportunity arises in the future, the NABI Foundation would be happy to partner again with the A.C. Green Youth Foundation to donate toys to our local Native American communities, explained Lewis.
This donation came to the SRPMIC Community Relations Event staff and was a great addition to the other giveaway items.
"Thank you to the A.C. Green Youth Foundation and NABI for the generous donation," said Events Manager Yvonne Schaaf. "It truly made the Community kids smile! We hope to continue our relationship and work together on future events."