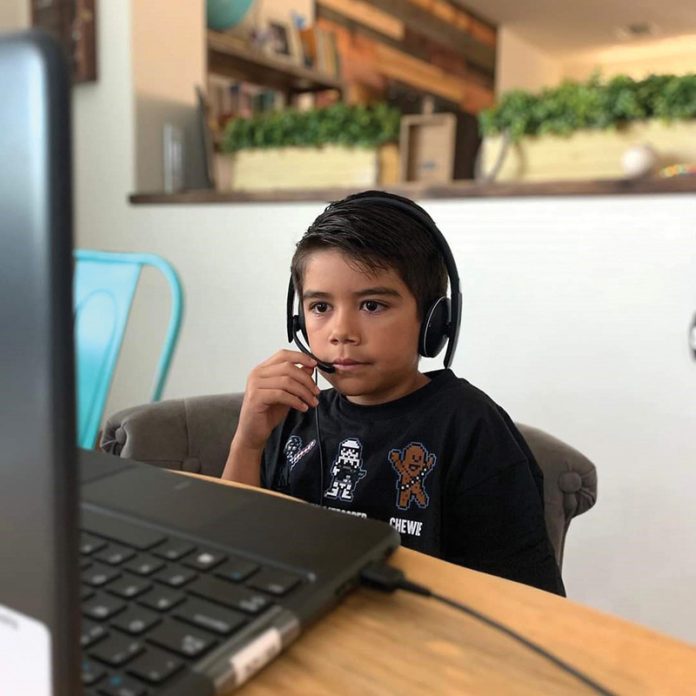 One of the biggest hurdles in adapting to the COVID-19 pandemic is safely opening schools for children to begin the new school year. Here in Salt River, there is a solid plan in place for kids to start school from home.
The new school semester started on August 3 for students in the Salt River Pima-Maricopa Indian Community. Back in July, Salt River Schools educators began reaching out to parents regarding Phase 1 of remote learning for their students.
Phase 1 consists of:
• Students will attend school remotely five days a week and stay connected with their classroom via online and physical learning materials.
• Students will receive instruction from their assigned teachers and will follow school grade-level requirements.
• Family considerations: Childcare for five days.
• Internet connectivity will be included when technology is deployed to students.
Laptops were given out to all Salt River Schools students, while younger children received tablets. These devices were handed out at the Accelerated Learning Academy campus and at Salt River Elementary School for drive-through pickup. SRS is working hard to ensure internet access is provided to all households for the student's education.
The Food Services team will be providing prepackaged breakfast and lunch meals to Early Childhood Education Center, Salt River Elementary and Accelerated Learning Academy students; these meals can be picked up from 10 to 11:30 a.m. at the ECEC dropoff area while remote learning is in progress.
The Mesa Public Schools Native American Education Program held a "Welcome Salt River" virtual tour and registration Q&A. The meeting was hosted by the Mesa Strength Youth Council, a group of Native American students, to give insight on how remote learning will work for SRPMIC students attending Westwood High School, Mountain View High School, Carson Junior High and Stapley Junior High. Parents were able to ask questions directly to the principals of each school regarding bell schedules, class credits, Webex learning and Canvas submissions. The panel closed with each Native American Club president welcoming parents and students into the new semester.
During the first few days of class, parents still kept the tradition of posting their students' back-to-school photos. SRPMIC parent Matthew Garza spoke about the "new normal" of remote learning.
"The first day of school went well. We had a few technology hiccups with the mute button and Webex login, but we were able to recover quickly," said Garza. "Remote learning is definitely a learning curve to make sure the children can take self-direction and responsibility for their class schedule. As a parent it's important for me to make sure my children are comfortable working on their school laptops and knowing how to navigate their school Canvas website."
As the school year begins, new challenges will present themselves. However, Salt River Schools is making sure that school staff, administrators, teachers and families stay safe while kids get their education and will do everything they can to help provide a full education experience at home.