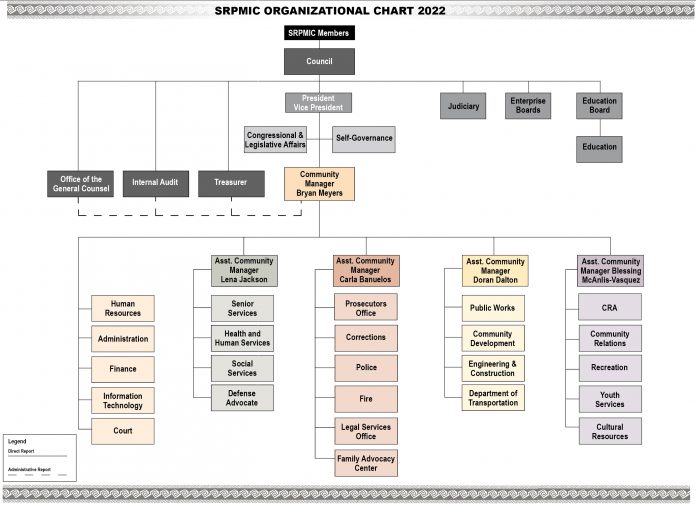 After the retirement of longtime Assistant Community Manager Kent Andrews, the Salt River Pima-Maricopa Indian Community Council approved adding a fourth ACM position to support the growth of the Community's government operations. The addition of this fourth ACM expands Community leadership and provides an opportunity to redistribute the increasing workload and responsibilities among Community Manager Bryan Meyers and now four ACMs.
"The Community created the three Assistant Community Manager positions 20 years ago," said Meyers. "The Community staff, services and corresponding workload have increased significantly over the past two decades. Adding another ACM will provide the opportunity to improve communication and operational improvements that will result in better service to the Community."
Two new hires, Blessing McAnlis-Vasquez and Doran Dalton, join current ACMs Carla Banuelos and Lena Jackson. SRPMIC Council, Executive Administration and other senior leaders provided input on the organizational changes for the Community government. Meyers explained that the Executive Administration conducted several meetings to create a proposed updated organizational chart for Council review. Council provided review and comments over a few work sessions to gain consensus.
"Effective organizations should be dynamic and ever-changing to meet the evolving service responsibilities," said Meyers. "The Community's continuous goal is to adapt the organization, processes and systems to provide services that are both efficient and effective."
There also have been changes regarding which tribal government departments report to which ACM:
• ACM Lena Jackson will oversee Health and Human Services, Social Services, Senior Services and the Defense Advocate.
• ACM Carla Banuelos will oversee Police, Fire, Prosecution, Corrections, Legal Services and the Family Advocacy Center.
• ACM Doran Dalton will oversee Engineering and Construction Services, Public Works, the Community Development Department and the Department of Transportation.
• ACM Blessing McAnlis-Vasquez will oversee Community Relations, Youth Services, Recreation, Cultural Resources and the Community Regulatory Agency.
• Community Manager Bryan Meyers will oversee the four ACMs as well as Human Resources, Finance, IT, Administration and the Court, along with some administrative oversight on Treasury, the Office of General Counsel and Internal Audit.
Bryan Meyers
Bryan Meyers has been SRPMIC Community Manager for 21 years and is responsible for leading and managing all of the personnel, operations and logistics of the Community government. In addition, the Community Manager may assist the SRPMIC Enterprises with projects and issues that arise.
"In 2000, the Community had 713 government employees; today we have 2,499 government employees," said Meyers on the growth of the Community. "In addition to just adding staff, the Community has significantly improved the government expertise and capabilities to provide in-house services that ultimately strengthen the Community's sovereignty and independence."
Highlights of Meyers' time in office include the opening of the River People Health Center, the Pima Corridor development, improvements in firefighting, police and public safety; and improved access to education at all levels for SRPMIC members.
Meyers' goal is for SRPMIC departments to collaborate and communicate effectively to continuously improve customer service, improve the overall health and well-being of Community members and their families; hire, train and mentor Community-member leaders; attain fiscal security for sustaining government services for future generations; and strengthen Community sovereignty and honor Community cultures, customs and traditions.
Lena Jackson
Lena Jackson is the daughter of David and Reggie Jackson. Her paternal grandparents are the late Dean Jackson from SRPMIC and the late Idella Hall from the Gila River Indian Community; her maternal grandparents are Ernest and Rosemary Peter. She has been an ACM for 10 years but has worked for the SRPMIC for a total of 17 years now.
Like the other ACMs, Jackson works with her departments to monitor operations and resolve issues, encourage collaboration between departments, and improve delivery of services to the membership.
"We have grown so much and have created many more programs to help improve the lives of our membership," said Jackson about how the Community has changed since she started as an ACM. "One of the major accomplishments and changes is the building of a new clinic, the River People Health Center. We have progressed from our little clinic that flooded to a beautiful building where we will offer quality health care to our members and also other Natives."
With the reorganization of the government, Jackson will be passing Youth Services and Community Recreational Services over to new ACM McAnlis-Vasquez. Jackson has witnessed much success in these departments as they moved into the Way of Life Facility and created more programs to meet the needs of the Community.
"Recreation has been able to build upon their Special Needs program for kids by hiring a Special Needs Coordinator who will help develop and plan programming for this population," said Jackson. "Youth Services continues to build on the Native Spirit Program, a 12-week program for youth that helps build their cultural connection and teaches them to be proud of who they are as O'odham and Piipaash. Youth Services has also partnered with Health and Human Services on the Not One More effort to get Narcan® into the Community, which saves lives when an overdose occurs. They have helped to get more than 1,300 Narcan kits into the Community."
Jackson explained that an important goal is to continue to create and improve programs and services that will increase the life expectancy of Community members.
"The average age of death for our members is 47 for men and 52 for women," said Jackson. "This is way too young, especially considering the average age of death for the U.S. as a whole is 77. Our goal is to increase life expectancy by five years in five years. We call this '5 in 5.' My directors are committed to this mission and will work to make this happen by understanding how trauma impacts one's life, by collaborating and eliminating silos, and by focusing on the five determinants of health (nutrition, lifestyle, mental health, environmental health and genetics). Our objective is to prioritize activities that will change the quality and longevity of life within the SRPMIC with respect to health, wellness and the family unit."
Carla Banuelos
Carla Banuelos comes from a family of 11 siblings and is the daughter of the late Lauretta Gates and the granddaughter of the late Ike and Sienna Gates. She has two daughters, one 17-year-old son, and one 9-year-old granddaughter.
She has been an ACM for about 19 years, starting her position in May of 2003. "We work very closely with department directors on their annual budget preparation and expenditures throughout the year; the direction and goals of the department; personnel matters; and assistance to Community members with concerns they may have related to the department or services," said Banuelos. "We frequently attend various meetings to address many areas of the government. Since COVID hit, it has been our top priority for the past two-plus years."
Since becoming an ACM, Banuelos has witnessed large growth in Community membership, new buildings and services provided for members.
"The growth of the corridor, our commercial and private businesses, is very impressive. I can remember 20 to 30 years ago the small number of businesses we had in the Community," said Banuelos. "Past Councils, Community governments and Community members grew this Community from an agricultural land base to what it is today. I absolutely acknowledge that the increases in commercial development contribute to many of the concerns in the Community, [such as crime and] added traffic coming into our Community. Of course, the impacts resulting from those types of changes are difficult, because with growth we must also grow our first responders and other services."
Banuelos will continue to oversee the departments she has worked with since becoming an ACM: the SRPD, SRFD, Department of Corrections, Tribal Prosecutor's Office, Community Legal Services and the Family Advocacy Center.
"Over the years, I was able to work with all of the department directors and learn about their operational needs. I will admit, the years of experience have helped me learn about the various services we provide, and I also recognize how important the directors are to the Community," said Banuelos. "One that stands out is former Fire Chief (David) Bunce. I was very thankful he was able to share his institutional knowledge and really took the time educate me on the inner workings of the Salt River Fire Department; this is not something you learn overnight. Having said that, there are many other directors whom I was fortunate to work with who have been able to grow their departments and increase their service availability for the benefit of the Community." For example, the Family Advocacy Center, along with their related departments, remains focused on providing continuity of service and a safe place for children and adults who find themselves the victims of abuse.
Banuelos said she remembers when the Community could not offer its members as many services as it provides today, so she appreciates that the departments are conscientious about their budgets and seek out grants to enhance their operations without sacrificing service delivery. For example, "the SRFD was able to apply for and secure the Safer Grant, which provided the department with about $3 million which will be used to hire additional firefighters and help initiate the Fire Fighter Preparatory Program."
Banuelos explained that more remains to be accomplished. "One task in particular is our communications center, also known as Dispatch. In the future it will more than likely have two independent divisions, fire and police. This is will be a change from its current status but will certainly serve the needs of both departments more effectively and efficiently.
"Moving forward, I recognize and understand what my role is and do not take it lightly or for granted," said Banuelos. "I am looking forward to the continued enhancement of services—not just from my departments, but the government as a whole."
Doran Dalton
Doran Dalton is the son of Latisha Dalton and Dean Dalton. His maternal grandmother is Gloria Loma of the Andreas family in Lehi. He has been married for 11 years and has two dogs. He likes spending time with his family and outdoor activities such as camping and fishing. He is a big Arizona Cardinals and ASU football fan. Dalton has competed on Ironman triathlon relay teams and tries to be an ambassador for fitness and a role model to the younger children in the Community.
After graduating in 1995 from Westwood High School, Dalton immediately started working for the Community in the Engineering and Construction Services Department while simultaneously taking classes at Scottsdale Community College.
"My career goal was to become an architect," he said. "After I started working as a summer youth worker in 1990, I got a taste of what I could do as an architect. At that time my supervisor, Todd Auger, let me design a duplex residential home and a soil testing lab for Salt River Sand and Rock [Salt River Materials Group], but after designing those I decided to go in another direction and my career goal shifted to civil engineering."
Dalton started attending school for civil engineering, but he lost his interest in that area. Fast-forward years later, and he had the opportunity to learn about geographic information systems (GIS).
"I started doing geographic information systems and really got interested and totally immersed myself into that career," said Dalton. "I decided to go back to school, and I took one semester at Scottsdale Community College just to get that under my belt before I transferred to ASU. I graduated with my bachelor's degree in urban planning, and after that I jumped into the master's program at ASU, graduating with a master's in geographic information systems."
Dalton has been asked to speak to Indigenous students in several classes at ASU and on GIS panels. He is currently involved with a fellowship program at ASU called Knowledge Exchange for Resilience, in which he is working in conjunction with the SRPMIC Community Development Department.
He has been part of the Community's Emergency Operations Center, a member of a Type I Incident Management Team under the U.S. Department of the Interior.
"I felt a strong calling to a leadership role, but there wasn't a lot of opportunities to move up in my profession," said Dalton about why he decided to take a chance and apply for the ACM position. "I had been developing myself for a role like this based on things I learned. I took a really good look at myself and I wanted to make myself more well-rounded. So, I took it upon myself to learn a lot about leadership, threw my hat in the ring and here I am."
Dalton is looking forward to his new position and how he can contribute with the knowledge he has gained over the years.
"I look forward to learning how the tribe works, how it evolves as the world changes, and trying to keep our identity as Indigenous people and as a sovereign nation," said Dalton.
Blessing McAnlis-Vasquez
Blessing McAnlis-Vasquez is the daughter of Coleen Kay Johnson-McAnlis and the late Jim McAnlis. Her maternal grandmother is Phyllis Johnson-Banashley, and her paternal grandparents are the late Lee and Betty McAnlis. She was born and raised in the Community and moved to the Mesa/Lehi area to raise her family; she is married and has three children.
She went to Arizona State University, where she earned a bachelor's in human communication; she then received a master's degree in organizational leadership from Grand Canyon University. McAnlis-Vasquez has worked in hospitality, marketing and tourism within the SRPMIC.
She has sat on several Community boards, including the Community Children's Foundation, the 12% Gaming Grant and the Gaming Enterprise Board.
"I enjoy being engaged with the Community and working toward our self-sustainability as a Community. That's an end goal for me and always has been a goal of mine."
McAnlis-Vasquez started working in the Community Relations Department in the early 2000s as an intern. After she graduated from ASU she worked for O'odham Action News for a year and moved on to work with Casino Arizona's marketing department. Before moving into her new position as an ACM, she worked for Discover Salt River as the Tourism Division manager.
McAnlis-Vasquez said that she decided to apply for the ACM position because she always wanted to leave the Community in a better place for all of our children and their children.
"I always wanted to make my family proud by serving within our Community. When the position was posted, I did not think about applying, but I was encouraged by a couple of people whom I respect very much. I thought about it with my family and decided to go ahead and do so, and I'm excited for the adventure," said McAnlis-Vasquez. "I know it's going to be different than what I am used to doing, but I'm excited about being part of change and part of a transitional time within our Community. We're growing, we're experiencing new things, and just because of the world that we're living in right now, it's just definitely transitional for us as a Community as well. And I want to be a part of that and do good things for our Community, so our children and our grandchildren have a wonderful place in which to grow up."