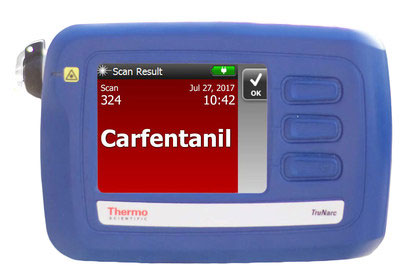 The Salt River Police Department has been awarded funding from the U.S. Department of Justice's Coordinated Tribal Assistance Solicitation (CTAS) to purchase two TruNarc™ narcotics analyzers. The devices provide accurate, definitive and fact-based scientific results of analyzed substances and will help law enforcement officers quickly identify unknown substances in the field.
The devices are made by Thermo Scientific and will be added to the two other TruNarc analyzers SRPD purchased from the same company in 2018.
TruNarc devices are handheld, portable, electronic drug and narcotics testing devices that enable police officers and Customs and Border Protection agents to scan and analyze for controlled and illegal substances, including stimulants, depressants, hallucinogens and narcotics such as fentanyl. They utilize Raman spectroscopy, via laser beam, to analyze and identify the substance.
"The SRPD has the operational responsibility for the investigation of all crimes, processing of all crime scenes and the submission of all evidence seized to an accredited crime laboratory for the scientific examination and analysis of all evidence from these cases," said Salt River Police Chief Karl Auerbach. "Accurate, detailed and rapid identification of submitted evidence is critical for SRPD to obtain the fact-based scientific evidence results for the submission of cases to our prosecutors for the protection, health, safety and welfare of the Community."
SRPD police officers, crime scene specialists, and property and evidence technicians do not have to be exposed directly to any contact with the testing source because the devices are contactless. This limits any airborne contact or exposure to drugs or narcotics to keep SRPD team members safe.
Similar to a portable breath testing device for the preliminary analysis of suspected DUI, the TruNarc devices are also approved and recognized by tribal, state and federal prosecutors as reliable preliminary scientific testing instruments. "Our current TruNarc devices have performed well and have delivered quality results," said Auerbach.