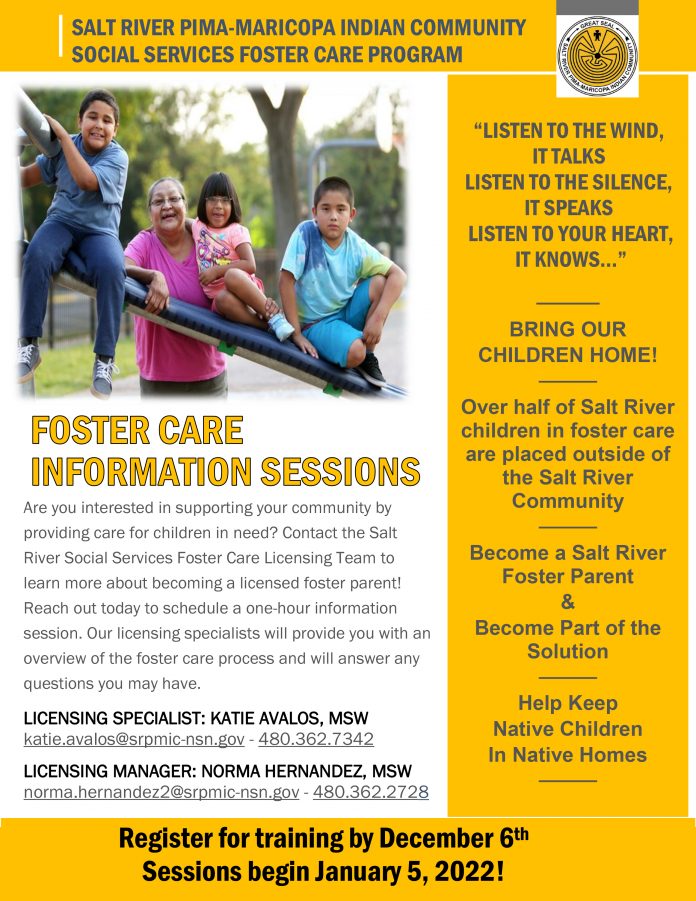 Did you know that fewer than five Salt River Pima-Maricopa Indian Community members are foster parents and more than half of the Community's children in foster care are placed outside of the Community? The Salt River Social Services Foster Care Licensing Team is looking for more SRPMIC members to help bring our children home.
Starting December 6, SRPMIC members can register to become licensed foster care parents. The first training session will start on January 5, 2022.
"Currently about 80 children are residing in foster homes," said Foster Care Licensing Specialist Katie Avalos. "Right now, in Salt River and other Native communities across the country, there is a big gap in actual Native homes. We've had some luck getting kids into Native homes, but not necessarily into Salt River homes."
The Foster Care Licensing Team is working hard to license Native families within the Community, specifically Salt River families, to bring Community children back to their culture, back to their home.
"A lot of times we forget the things that children lose, but for any child placed in foster care they lose their neighborhood, their position in their family from oldest child or youngest child, and connections to relatives such as aunties and even friends of the family," said Avalos. "We tend to not think about the scope of that loss, and that's so much more compounded for Native children. We're moving them off of tribal community land, [which leads to] generational loss—things like language, culture and tradition that are lived experiences. It is hard on a non-Native family who is going to try to bring the child back here to engage them on a cultural level; it's not the same."
The Foster Care Licensing Team is searching for families from Salt River to open their hearts and homes so these children can come back to their Community. They need families that will continue to pass on that cultural knowledge, continue to support them in traditional ways and bring some more of that indigenous lived experience that foster children are not going to get in homes outside the Community, explained Avalos.
SRPMIC members who want to become foster parents must take an 11-week training course consisting of a two-and-a-half-hour class each week. The participants will study the National Training and Development Curriculum (NTDC).
Avalos and Licensing Manager Norma Hernandez utilize this special curriculum in their foster care licensing training program. "We've been teaching it for about two years now. It has a specific Native American component to it. It's actually one of the only curriculums for foster care training that does have that component; we teach an American Indian/Alaska Native–based curriculum," said Avalos. "Norma and I both love this curriculum. It's very comprehensive. Next year will be the end of the pilot program, and after that we're going to make some adaptations to it. We are trying to shorten the hours on the initial training to get it down to a 15-hour training."
Due to the COVID-19 pandemic, the upcoming foster care training will be conducted virtually, every Wednesday from 6 to 8:30 p.m. Participants will go over topics such as:
• Child development
• Separation
• Grief and loss
• Trauma-related behaviors
• Effective communication
• Reunification
• Maintaining children's connections with siblings, extended family and community
• Cultural humility
• Impact of substance use
• Accessing services and support
• Creating a stable, nurturing and safe home environment
There are ongoing training requirements after the licensing training.
"We are never just leaving families out there. If a family comes to us with a specific need—for example, a family is struggling to get a child on a bedtime routine—we can provide training for them on that specific area," said Avalos. "The other thing we work really hard on is a training called Reasonable and Prudent Parenting Standards. There are certain hard limits and restrictions to what a foster parent can or cannot do, but under these new standards the goal is to get the children into the most family-like setting as possible and to allow foster parents to create the most normal experience possible. So, we're not tying foster families down with unreasonable expectations of what can be done with foster children in their care. They are allowed to take them on vacation or let them go to sleepovers and camp, or participate in sports. They're allowed to have the most family-like experience until they can be back with their own family."
The SRPMIC is the only sovereign nation using the NTDC curriculum. The Licensing Team has been asked to share their knowledge in this curriculum with foster care operations in tribal communities in Arizona and the Pacific Northwest. Hernandez will be presenting at the National Indian Child Welfare Association (NICWA) conference in April 2022.
To become a foster parent, you must be 21 or older and have financial resources to meet your needs. Potential foster parents do not require a college degree and do not need to be married or have had biological children.
"The primary goal of a foster parent, other than keeping that child safe and supported in a family setting, is to support the reunification process to develop a relationship with the biological family," said Avalos. "We need families here in the Community who can support these goals. Community children who maintain that connection to their culture do better in their long-term outcomes: higher rates of high school graduation, more college-level attainment and a better economic outcome in the long run. All of those things help build a better foundation for the Community. When children stay connected to their culture and Community, they grow and give back to their culture and Community."