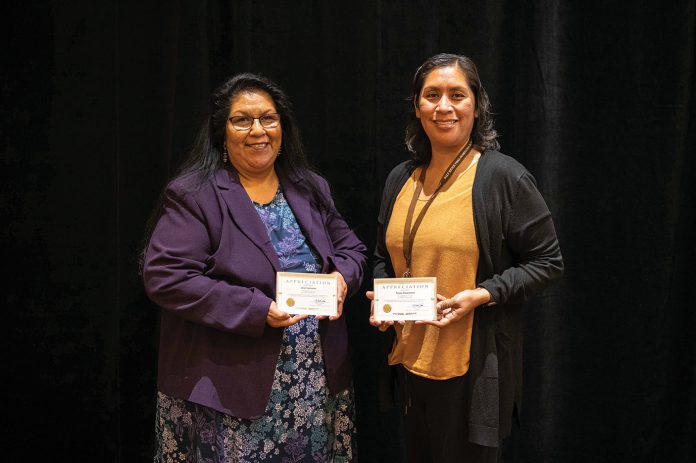 Employees of the Salt River Pima-Maricopa Indian Community were acknowledged for their service to the Community at the annual awards luncheon held at Talking Stick Resort and Casino on January 19.
This year, 329 employees were recognized for reaching milestones of continuous employment with the Community, ranging from five years to 40 years. The longest-serving Community employee was Janet Johnson, the only individual this year to mark 40 years of service to the Community.
To celebrate Johnson's years of service, a montage of photos was shown on the two large screens showcasing many notable parts of her career.
SRPMIC Community Manager Bryan Meyers offered the blessing and made some opening remarks.
"It's been a few years of the COVID phase that we're in, so it's great to see everybody here. First, I'd like to thank the [SRPMIC] president, the vice-president and Council members for their attendance at this function," said Meyers.
He said that it takes a very special person to provide a high level of service to the Community year over year. "Many times, even through their own personal or family issues that life brings, our employees continue to rise to the challenge," said Meyers. "Long-term employees really are loyal to the Community, and we must not take that for granted."
Following Meyers' remarks, SRPMIC Vice-President Ricardo Leonard said, "I am truly amazed at the model for the kind of love you created. And I just appreciate that. Thank you very much for all working to move the Community forward." Leonard asked for prayers upon the employees and their families and for guidance in carrying out the tasks set before them.
"Thank you for all of the work you do for our Community members, because we appreciate the services that are given to them because of the talent you bring to the Community," said SRPMIC President Martin Harvier. He said the long-term employees have laid the foundation for the next workforce, as a model of excellence.
Harvier added that he appreciates them for getting up each day and putting in their service to the people.
"You have made a commitment to the Community to go to work to provide services to our Community and provide for your own families," said Harvier.