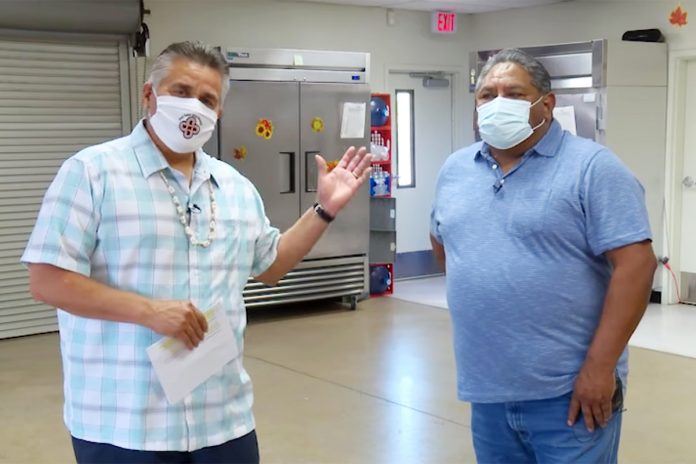 In the President's Weekly Update on Friday, November 20, Salt River Pima-Maricopa Indian Community President Martin Harvier visited the Salt River Food Distribution Center and asked Food Program Coordinator Daniel Chiago a few questions about the processes there and how the food boxes are prepared and distributed to Community members.
Harvier and Chiago conducted a Q&A interview to help inform Community members about how they can obtain services from the Food Distribution Center.
Q: How has the Salt River Food Distribution Program been serving the Community during this pandemic?
Since the pandemic began, the food bank has been doing quite well as far as serving the Community and neighboring cities that fall in the jurisdiction district zip codes of 85256 and 85203.
Q: Can anyone come to the food bank to receive one of these boxes?
Yes, anyone who does not live in the designated zip codes still can come on a one-time basis; we will provide them with one food box and information on other food banks in their area.
Q: How does someone pick up a box?
It's quite simple: Patrons drive up and we go out and get some brief information from them, and then we place the food box in the trunk of their vehicle.
Q: When does the distribution take place?
Monday, Wednesday, Thursday and Friday from 8 a.m. to 5 p.m.; on Tuesdays, hours are 10 a.m. to 3 p.m.
Q: If someone is interested in helping to distribute food or donating food items, whom should they contact?
At this time, we are getting donated food from St. Mary's Food Bank only. We cannot accept personal food donations from homes due to the COVID-19 pandemic.
Q: Will the food bank be distributing anything special for the holidays?
Yes, it gave out 150 turkeys for Community members on Tuesday, November 24.
Harvier ended his visit by thanking Chiago and the Food Distribution Center staff for the work they do.
"They provide a service to our members who are in need. Especially in these trying times with this COVID-19 pandemic and how it's affecting families, we appreciate all the work that they are doing here," Harvier said.
To learn how you can get a food box, call the Salt River Food Distribution Center at (480) 362-7277. Please remember to wear a mask when visiting the Food Distribution Center to help stop the spread of COVID-19.