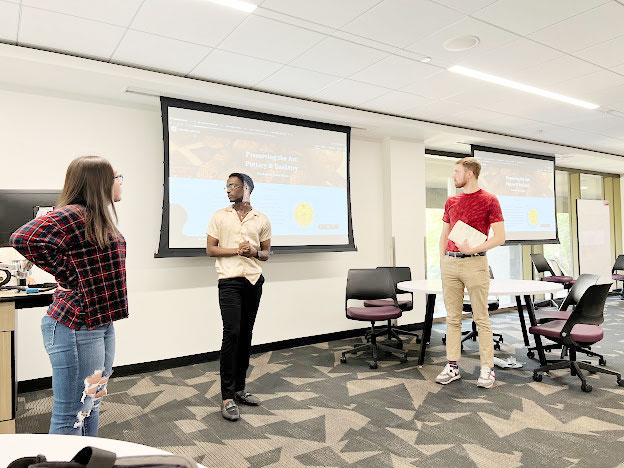 On April 28, the Salt River Pima-Maricopa Indian Community's O'odham Piipaash Language Program (OPLP) and the Arizona State University Humanities Lab collaborated on a presentation called Language Emergency, which was held at the Hayden Library ASU Tempe Campus and streamed live on Zoom. Language Emergency is a collaboration between ASU and the SRPMIC to document and preserve the cultural and linguistic heritage of the O'odham and Piipaash people.
The presentation served two key purposes: to assist the SRPMIC in developing and reaching goals for revitalizing the O'odham and Piipaash languages, and to engage ASU students with the issues facing language endangerment, specifically in a Native American community that is a close neighbor of ASU.
"This was a mutually beneficial endeavor that provided students with real-world experience and simultaneously supported a number of ongoing and new OPLP projects," said SRPMIC Director of Cultural Resources Kelly Washington, who attended the presentation.
Native and non-Native undergraduate and graduate students made a variety of presentations, including Phrase Bits: Inventorying Language Memories for Posterity; Say It with Me! A Piipaash Language Teacher's Guide; Dictionaries: Let's Preserve Languages!; Taking Data to the Future; Language Emergency: Maricopa Language Transcription; Preserving the Traditional Arts of Pottery Making and Basket Making; It's Evident to See That Storytelling Can Be the Path to Modality; and AIM to Get Lost in History…With a Map.
These presentations touched upon eight projects in various stages of development at the Cultural Resources Department focusing on aspects of language documentation, language teaching and culture. More specifically, the projects help with the transcription of elders' interviews, lexicography database compilation, linguistic modality storyboards, an early education storybook teaching guide, coding and analyzing a language survey, geographic information system (GIS) mapping, O'odham and Piipaash legacy materials, and the development of cultural arts teaching kits.
The GIS project features the creation of the Arizona Interactive Map (AIM) of O'odham and Piipaash places, which uses GIS data to map out notable and culturally important places to the tribes.
Tyler Peterson is an assistant professor of English (Linguistics and Applied Linguistics) at ASU who has worked with Washington and OPLP manager Luis Barragan for more than five years. Peterson, Barragan, ASU linguistics professor Danko Šipka, and ASU Associate Librarian Joseph Buenker were the teaching team for the project.
"I do a lot of training workshops for [the OPLP] staff in the techniques and methods of language documentation, both O'odham and Piipaash," said Peterson. "We've always enjoyed working together, so this provided a natural foundation for a more elaborate and formal collaboration between my employer, ASU, and the CRD."
In 2020, Šipka, who has an interest in supporting Native American and minority language documentation, suggested that ASU develop a Humanities Lab course with an emphasis on practical methods and solutions that can be applied to real-world problems. According to Peterson, this presentation was a "proof of concept" that productive collaborations are possible between a large academic institution like ASU and the SRPMIC.
"The presentation was spectacular in the sense that it really showed that the students took seriously the projects that we provided for them," said Barragan. "They collaborated very well with our staff, notably with our outreach coordinator, Cody Achin. Cody was instrumental in developing a lot of the projects. It was great to see that the students were able to create something in regards to their expertise in their respective fields."
Barragan said that grad student and linguistics major Saki Gejo, who worked on the Maricopa language transcription project, is slated to intern with the OPLP this summer.
"Currently we're working on an investigation into linguistic modality in O'odham and Piipaash," said Barragan. "That's the area of language where you talk about things like possibility, probability and source of knowledge. They're the kind of words in English that we take for granted; they're called modals." The modal verbs in English include shall, should, would, can, may, might, must, will and ought to. "[For] example, 'I can lift this box' or 'It might rain.' These [words] talk about speakers' intentions."
For more information on the Language Emergency humanities lab, go to https://humanities.lab.asu.edu/language-emergency.