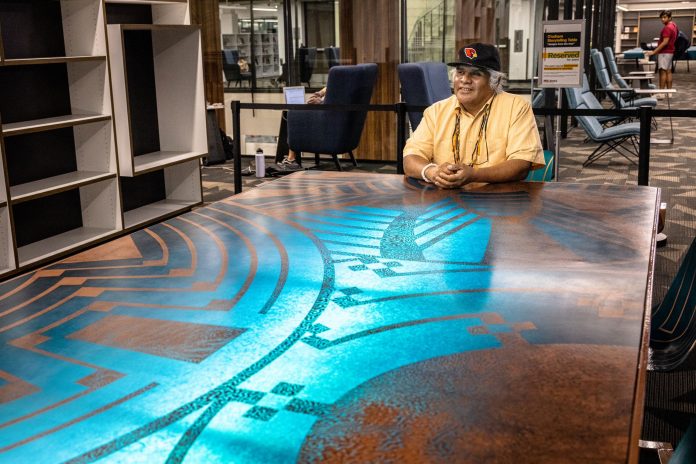 On November 22, Salt River Pima-Maricopa Indian Community member and artist Jeffrey Fulwilder unveiled a custom table that he helped design for the Labriola National American Indian Data Center at the Hayden Library on Arizona State University's Tempe campus.
The table was produced through a collaborative process that also included designers Selina Martinez (Yaqui), Herberger Institute for Design and the Arts professor Wanda Dalla Costa (Cree) and professor Claudio Vekstein of the ASU Indigenous Design Collaborative.
Fulwilder provided sketches illustrating a design concept for the art piece while Martinez designed the table and 12 matching chairs. The table is made from fiberglass resin and steel and is powder-coated in a copper color. The fabricator for the project was American Fiberglass.
As for the final design concept, Fulwilder said that it was inspired by flowing water.
"When there's a fallen tree in the water, the water rushes through it and twirls around," said Fulwilder.
"That's kind of the thought I was having when talking with [the designers]."
The table's design motifs reference traditional storytelling and Indigenous ways of life for the O'odham. It reflects a basket-tree pattern inspired by O'odham basket weavers and the ecosystem where they harvest cattails, willow, bear grass and the white of yucca plants around early spring. The flora is cleaned, dried and stored to later be woven with devil's claw for making baskets.
The 25-foot-long table is located on the second floor of the library. Because it's so large, it needed to be lifted into place by crane.