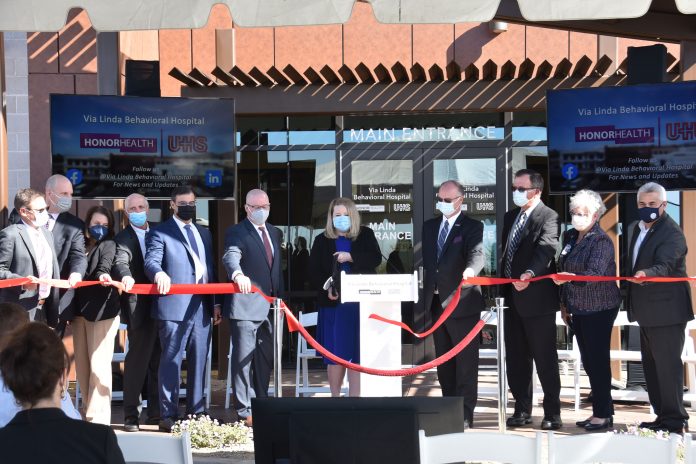 On May 22, HonorHealth held a ribbon-cutting ceremony for its new Via Linda Behavioral Health Hospital on Salt River Pima-Maricopa Indian Community land.
The hospital will offer substance abuse treatment and specialized mental health services for teens, adults and older adults who are experiencing a behavioral health emergency such as severe anxiety, depression or suicidal thoughts.
To begin the ceremony, SRPMIC Vice-President Ricardo Leonard addressed everyone in attendance.
"I want to thank you all for having this facility here. There is a great need [for behavioral health emergency care] after the pandemic. I think this is going to be a great piece to add to our Community. It's a beautiful building," Leonard said before standing to the east and performing a blessing song.
"This song talks about how our souls rise up toward a certain place in the heavens. He or she reaches their arms out as they're going toward the Sun. Our people have always been Sun worshippers. When he or she reaches a certain place, the Sun touches them on the tips of their fingers and this brightness shines and they become part of the spirits that are up there."
SRPMIC President Martin Harvier was also in attendance, and the Salt River Basket Dancers performed the traditional basket dance.
The 73,000-square-foot facility has 120 beds, four outdoor spaces with outdoor turf, and a special design that Via Linda Behavioral Health Hospital CEO Jaclyn Hull said is designed with safety in mind.
"We're thankful for the partnership with SRPMIC," said Hull. "We're really excited to provide this service. Normally, Community members would have to leave the Community and go to Maricopa, so now they're able to come here voluntarily and sign in. Nobody has to feel like they are alone anymore and leave their land, so that's huge. We're looking to provide a space that's compassionate, comfortable, and that [the patient feels] totally at ease when they walk in the door. There's nothing worse than being in a behavioral health emergency and not having that opportunity to feel like you have the time and space to heal."
The hospital is located at 9160 E. Horseshoe Road.
Dwayne Manuel's Mural
As patients enter the hospital through the ambulance entrance, they will see a mural made by Community-member artist Dwayne Manuel representing peacefulness, harmony and togetherness.
Manuel said it took him about a month to come up with the concept, and he started and finished the mural in a couple of weeks in March.
"My idea, since it is a hospital, is that it needed more color to lift up the spirits of a patient. I felt that with this mural I wanted a lot of color," said Manuel.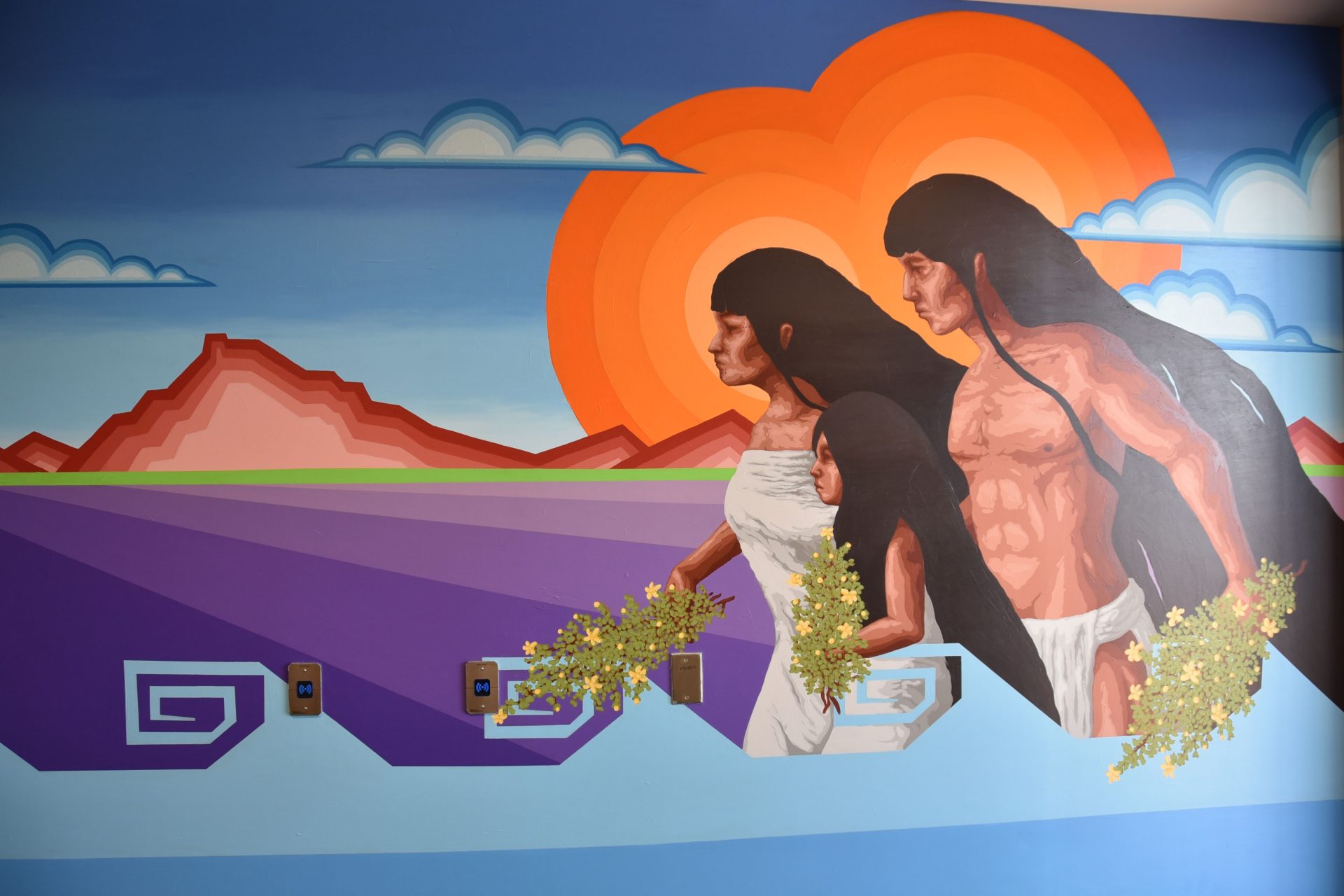 "I wanted it to be like the pyramids in Mesoamerica, where you come into an entrance and you know you're there for a healing. The image has three human figures: a family with a mother, a father and a daughter. Together, they are walking toward the hospital and are all carrying Ṣegoi (O'odham for creosote), a metaphor for embracing healing. The landscape and the sky are all my way of adding serenity and peace through [gradients of color in different sections of the mural]." Manuel said that he is currently finishing a second mural in the adolescents' waiting room of the hospital. It will be a colorful landscape with a focus on plant life.