Apache Stronghold, a San Carlos Apache nonprofit organization dedicated to defending holy sites and freedom of religion at Oak Flat, said in a statement that the Holy Ground crosses at the site were vandalized sometime after 9 p.m. on March 22.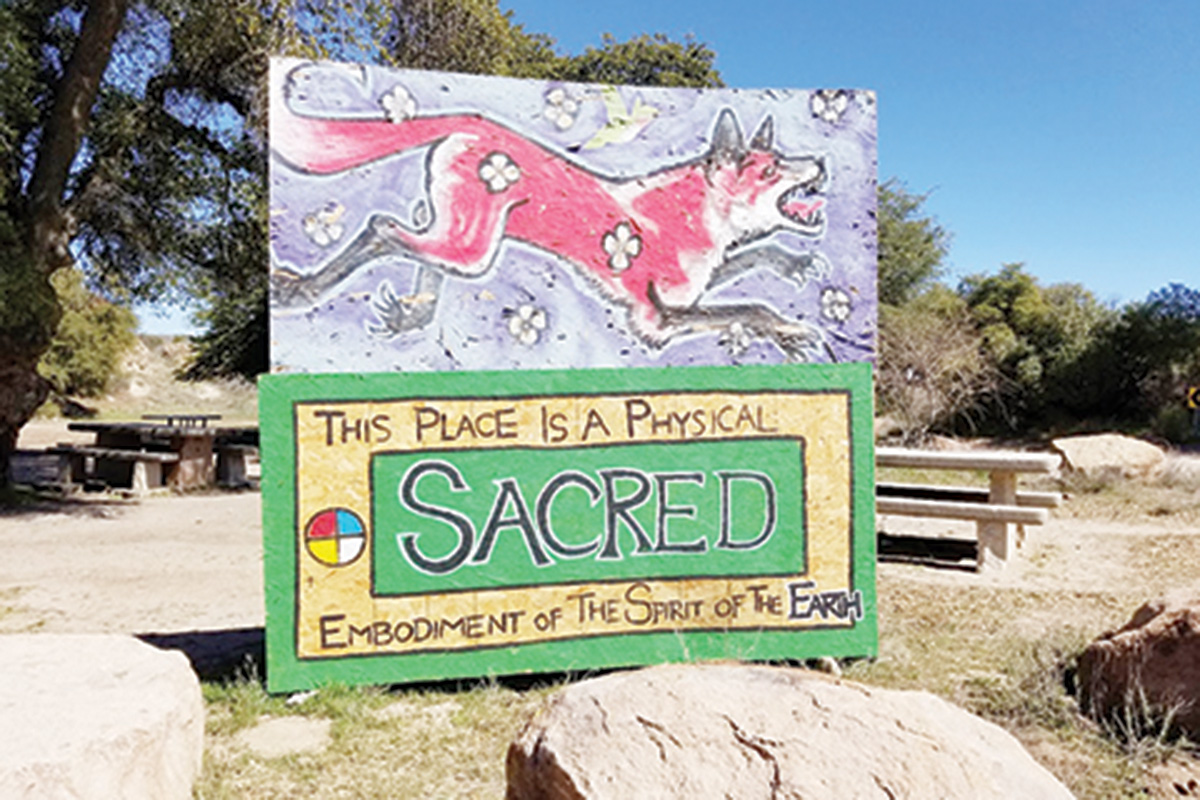 Wendsler Nosie Sr., a member of Apache Stronghold and former chairman and council member of the San Carlos Apache Tribe, said that this was the third time recently that the crosses were destroyed.
"As you know, the Holy Ground Ceremony has been a part of us since the beginning and has brought us through so many devastating transitions that our people had to endure. Our religious ways are no different than any other Christian beliefs on how God communicates between heaven and earth," Nosie said in a letter to San Carlos Apache Chairman Terry Rambler and other recipients, which included the mayors of Superior, Globe and Miami.
Nosie continued, "The U.S. Forest Service, particularly the Tonto National Forest, is aware of these hate crimes happening here at Oak Flat. As of today, we have not received any responses to our reporting and their investigation of these hate crimes. Yet, they push consultation for the benefit of Resolution Copper and not for Indigenous people, the environment and not to even consider the sustainability for the future of all mankind."
As previously mentioned in the June 3, 2021, issue of O'odham Action News, in the 2015 National Defense Authorization Act, a provision mandated that the federal government transfer 2,422 acres of Tonto National Forest land to Resolution Copper, a joint venture owned by Rio Tinto Mining Company and BHP Billiton, to mine the region. The Oak Flat area is considered sacred by the Apache and other Arizona tribes.
What's Next for Oak Flat?
On May 12, U.S. Congresswoman Debbie Lesko (AZ-08) introduced H.R. 7722, the Unleashing American Resources Act, which, if passed, would require the Secretary of Agriculture to reissue the final Environmental Impact Statement for the Resolution Copper Project and Land Exchange to allow the Arizona facility to immediately begin production at Oak Flat.
"At a time when the United States is in desperate need of critical minerals, we must do all we can to produce these minerals domestically," said Congresswoman Lesko. "Under the Trump Administration, the Resolution Copper project was greenlit to begin production, but then the Biden Administration decided to rescind that approval. We need to get this mine back online and cut the red tape."
Lesko said that, once at full capacity, the mine could provide 25% of all the copper needed in the United States.
"We do not support the destruction of Oak Flat and the contamination of billions of gallons of groundwater," said Nosie in a Facebook post response.
Mining Law Reform
On May 12, the Natural Resources Committee's (NRC) Subcommittee on Energy and Mineral Resources held a hybrid legislative hearing titled "Reforming the Mining Law of 1872" and considered NRC Chair Congressman Raul M. Grijalva's (AZ-03) legislation H.R. 7580, the Clean Energy Minerals Reform Act of 2022.
"The Mining Law of 1872 did not account for the legacy of environmental degradation that mining would have in its surrounding communities, nor did it provide for royalties or a comprehensive system to evaluate, permit, and develop and reclaim mines to ensure sustainable mining on public lands," said Steven H. Feldgus, Ph.D., Department of the Interior Deputy Assistant Secretary for Land and Minerals Management.
H.R. 7580 requires consultation prior to undertaking any mineral activities that may have a substantial direct impact on the lands or interests of Indian tribes, and it establishes an environmental standard for mining activities to ensure that mining activities prevent undue degradation of public lands and resources.