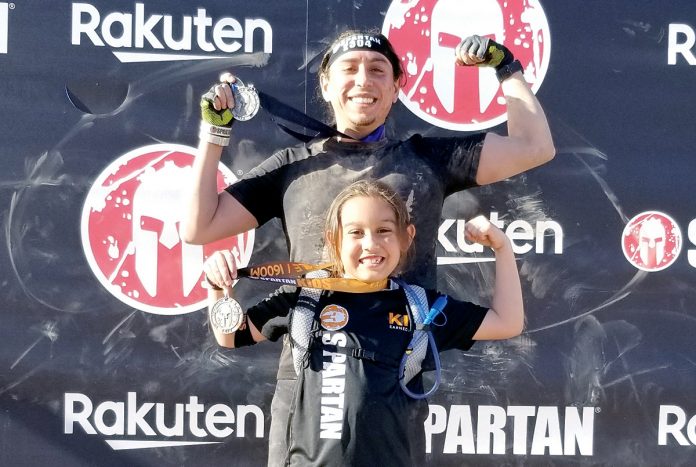 Feeling euphoric even with his cut-up knees shaking from near-exhaustion, 31-year-old Zachariah Miles crossed the Spartan Race finish line knowing he left everything he had on the course. 
The Spartan Race is an endurance and obstacle race series with events held around the world. Various levels exist, including the Spartan Sprint and the Spartan Super. Both children and adults have their own races. The Spartan Arizona Sprint and Super Weekend was held at the Fort McDowell Rodeo Grounds on February 9 and 10.
To make completing the race that much sweeter, Miles had crossed a different finish line earlier that day along with his 9-year-old son, Zariah, who had just completed the Spartan Kids race. Zachariah ran the kids' course with Zariah, who was celebrating his birthday that weekend.
The father-son duo had been training for the race for months. The course was packed with challenges like mud pits, lifting obstacles and climbing walls. Zachariah completed the Super race course, a grueling 9.1-mile, 29-obstacle course, in three hours and 35 minutes, faster than his four-hour goal. It only took Zariah 24 minutes to complete the 1-mile, 12-obstacle kids' course. Zariah and his mother, Jackie, waited and cheered for Zachariah to finish.
"It was mentally challenging to go the distance, to conserve energy and not burn out too soon," Zachariah said. "It was an experience to utilize the whole body, a complete body challenge."
"It was fun and overall some of it was really, really hard, like going over hills with sandbags, stuff you would lift, heavy stuff," Zariah said. "I was kind of nervous about the mud pit, but once I got in there and through it, I recognized it was really easy."
The Fort McDowell course is billed as one of the more complex courses on the Spartan Race calendar. "This event favors runners that can move quickly between obstacles and punishes those that take it for granted. Conquer the course here and you will have run across an area steeped in rich American culture and history," according to the Spartan Race website.
The Spartan Race wasn't on the Miles family's radar until only a couple years ago.
In 2014, Zachariah suffered a devastating hip injury as the result of a car crash. He couldn't walk for a couple of months and required a walker when he finally was able to try. He did physical therapy, and it helped, but the accident affected him mentally as well. He gained unwanted weight; after closing in on 200 pounds, he decided to make a drastic change thanks in part to a strength trainer he met while working out. The trainer motivated Zachariah to consider the Spartan Race.
Zachariah got serious in his workouts and nutrition in 2017. He lost 50 pounds while training and attending Scottsdale Community College, where he's studying business.
The countless cardio miles, push-ups, pull-ups, and kettle-bell squats were paying off. He gained needed strength and marked February's Super on his calendar. Meanwhile, son Zariah was working on the exercise ball, doing push-ups, and running and climbing at school in preparation for the big day.
"I felt a sense of appreciation for the mobility of my body, being able to heal to the point [where I could] participate in such an event, from going through physical therapy, not being able to walk, and not being able to care for myself to be able to do something I never imagined. It gave me a sense of confidence," said Zachariah.
Zachariah pointed to being O'odham, noting that his ancestors thrived on this land since time immemorial. He said he was meant to do the Super race, and the location of the course inspired him.
"This is our backyard, our tribal lands," he said. "It felt natural to be there; culturally, it's who we are. We were health-conscious people, fit, active. I want to emulate that."
Up next, the father-son duo is looking to compete in a similar race at State Farm Stadium in Glendale and perhaps a race in Las Vegas.
Finishing the Super "was really uplifting," Zachariah said. "It showed me what being disciplined and determined can do for you."