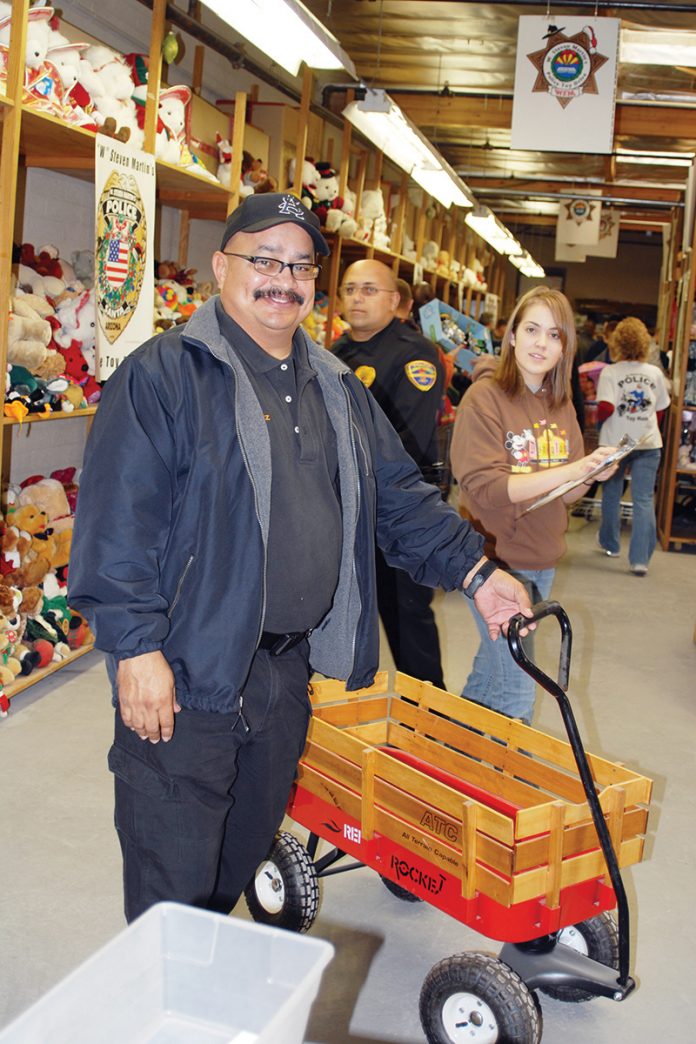 On Tuesday, July 14, Salt River Police Department Detective Gabriel Hernandez retired from the SRPD after serving with honor for a little more than 15 years, from 2005 to 2020.
Det. Gabe Hernandez (badge number 162) started with the SRPD on March 7, 2005, and attended and graduated from the ALEA Police Academy on July 1, 2005. Det. Hernandez served in numerous capacities for SRPD: patrol officer from March 7, 2005, to June 4, 2007; field training officer (FTO) and school resource officer from June 4, 2007, to May 31, 2015; and detective from May 31, 2015, to July 14, 2020.
Det. Hernandez received several awards over his 15-year career, including Training and Education, Specialty Assignment, Master Marksman and Veteran. Prior to working at the SRPD, he served in the U.S. Air Force from 1976 to 2005 and retired as a master sergeant.
Showing dedication to the Community, Det. Hernandez attended and participated in most every SRPD Community-Based Policing event and many other SRPMIC Community events. Det. Hernandez was also a frequent Shop With a Cop participant and was always looking to lend a hand by brightening a child's day.
Continuing in Det. Hernandez' footsteps, his son serves as a sergeant with the Goodyear Police Department. Det. Hernandez has been married to his wife Ana for 23 years and has four children and 10 grandchildren.
Det. Joseph Orozco created a retirement video to acknowledge Det. Hernandez's service at SRPD; the video can be found on the SRPD Facebook page. At the end of the video, SRPD Police Chief Karl Auerbach presented Det. Hernandez with a retirement plaque, which reads:
"Detective Gabriel Hernandez, Badge Number 162, retired. On behalf of the Salt River Pima-Maricopa Indian Community and the SRPD, we appreciate your dedicated commitment, loyalty, and service to the Community. You proudly served with honor. As a police officer from March 7, 2005, to June 4, 2007. As a school resource officer from June 4, 2007, to May 31, 2015. As a detective from May 31, 2015, to July 14, 2020."
"Det. Hernandez was well known and respected by many Community members, our Community schools, SRPMIC department employees and neighboring police departments. He mentored many SRPD Team Members," said Chief Auerbach. "We thank you, Det. Hernandez, for your 15-plus years of committed, dedicated and loyal service to SRPD and SRPMIC. Wishing you the very best."