Two young girls enter the ring to hear instructions from the coach. They are paired off and begin sparring with each other, blocking and kicking. Their father encourages them from the sidelines.
This is a normal day after school for sisters Johanna Tate (Hanna) and Rianna Tate (Ona). The girls are training in mixed martial arts, just as their father, MMA fighter Joe "Tomahawk" Tate, once did.
Johanna is 10 years old and a fourth-grader at Salt River Elementary. Her older sister Rianna is 12 and is in the sixth grade.
Their journey began a year and a half ago, when Hanna asked to begin training. Soon after, big sister Rianna began training alongside her. "I thought it was really great for them since I've had a good career in it," Joe Tate said. "I just felt it was time. I tried to bring them in a long time ago, when they were little, but they were scared, so I just let it go. Then all of a sudden, the little one was like, 'Dad, I want to start training.' So, we started training."
Tate explained that he didn't force Rianna to join her sister, as she was content to sit and watch with her mother. "Then some situations happened … a little bit of bullying, [and] some stuff occurred. Then she wanted to train with us," Tate said.
"It's really exciting to see them [be able to] protect themselves in their life. I want them to live healthy lives and eventually make it to the UFC or the Olympics to meet the other Indigenous youth [competitors]."
Both girls have competed in tournaments across Arizona, Nevada, California and New Mexico. They have won gold and experienced losses that made them want to go back to the gym to train even harder. As their father describes it, the ultimate goal is for Johanna and Rianna to fulfill their dreams.
"I want to become the first full-blooded Native to win the UFC," Johanna said. When Johanna steps into the ring with her opponent, she explains her immediate feelings at the moment. "Nervous, a lot of nervousness because when I first see my opponent I see them and sometimes they look scary like so strong but I just think in my head that maybe I shouldn't look at them so much and just focus on fighting, so I do," Johanna said.
Her big sister is shooting for a goal that is just as ambitious: to "make it to the UFC, which is the ultimate goal, and get in the Olympics," Rianna said. "I want to be the champion of the state Olympics."
Both girls practice a wide variety of fighting styles, including Brazilian jiu-jitsu, wrestling, Muay Thai (Thai boxing) and regular boxing. They practice immediately after school, Monday through Friday. They are sponsored with fighting gear, apparel and monetary through Ctrl Industries, Nvjo Athletics, M&D Pickle Slushy and Team Way of the Warrior. The gyms they train at are Dan's Gym, Thorobred Wrestling Club and Farias Jiu-Jitsu who are all friends of their father.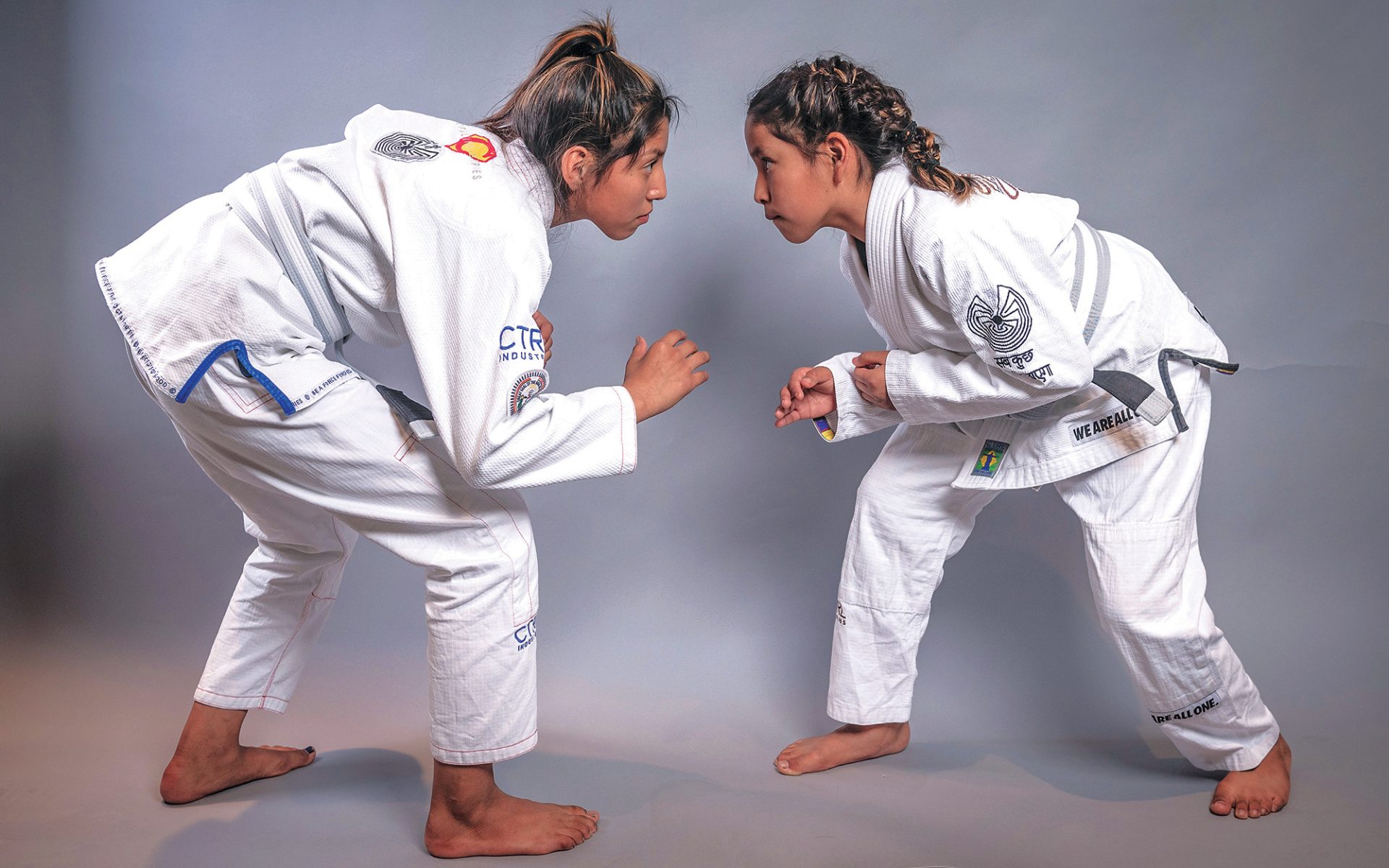 "We're doing a lot of sacrifice and dedication, but I'm really proud of them," Tate said. "It's an amazing feeling every day, especially Mondays, when we get our week started." On the weekends they all enjoy family time.
Their father, Tomahawk, will be teaching Brazilian jiu-jitsu in the future at the Way of Life Facility in Salt River but in the meantime he is setting up his home to bring training there. Sometimes the girls take their training home with them. "[We] always fight a lot because we get mad. And I get so mad I just double-leg her and she falls," said Johanna about her sister.
"We play-fight, but sometimes when we're really mad at each other we go at it and my dad will have to break us up," said Rianna.
"That happens—sometimes they get mad, start getting aggressive," said Tate. "I laugh, but mom gets mad about it. We kind of play around for a little bit to let them get their mind off of it."
Tate believes that his family will one day make it big as some of the first successful Indigenous fighters in the industry.
"We're going to make history; I believe it," Tate said.