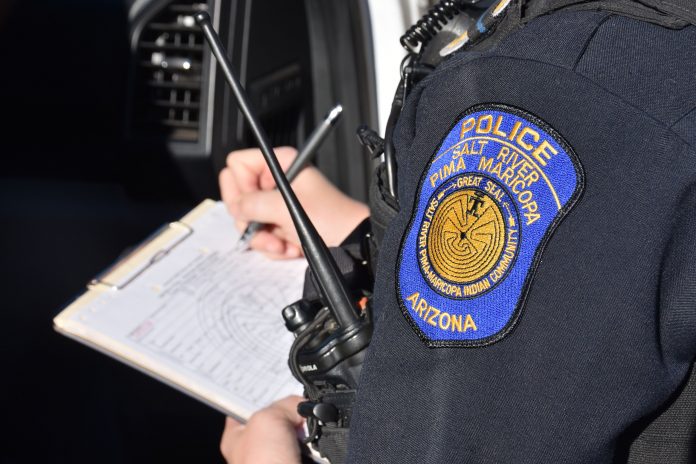 The Salt River Police Department (SRPD) is currently hiring for several open positions within the department. Current positions available are crime scene specialist (two positions), police officer (approximately 40 positions), records clerk (approximately three positions), dispatcher 1 (approximately eight positions) and animal control technician (one position).
Currently, 14 members of the Salt River Pima-Maricopa Indian Community work for the SRPD, seven of them as police officers, and another 15 SRPD employees are members of other Native American tribes.
SRPD Sgt. Joseph Ellis said that having more Community members filling these open positions within the SRPD is important and it would make a difference in the department.
"Community members bring knowledge, experience, history and tradition," said Ellis. "Those four things, on top of several other things, help educate SRPD employees who are not from the SRPMIC. It is a good feeling to help others, but it is an even better feeling to help your Community."
Ellis said that the most important things to think about before applying to become a police officer are having a strong work ethic, getting and staying in shape physically, and having a clean driving record, a clean background and clean social media accounts.
To get an idea of what it's like to work for the SRPD, O'odham Action News talked with SRPD Off. Tammy Lundy, who worked for six years in law enforcement on the outskirts of Chicago, Illinois, as a patrol officer and detective before moving to Arizona. Her first job after moving to the state was working in dispatch at SRPD for a year and a half. She recently became a police officer in the Community.
"[As a police officer], you get to help people pretty much every day, [from] helping someone find their keys that got lost in a store or recovering stolen items, all the way up to saving someone's life," said Lundy. "That's pretty rewarding. Every single day is different, and you don't have to sit in the office all day. You get to be out there and interact with your Community."
Lundy said that her typical day begins in a "swing shift," which is from 1 p.m. to 11 p.m. She will arrive early to get her police vehicle set up with her gear. Police officers usually work four days a week in 10-hour shifts.
After that, Lundy said that she makes sure her uniform looks good and that her flashlight and radio are charged up and ready to take with her.
If the COVID-19 pandemic permits, there will usually be a briefing for the officers in which the sergeant will go over anything that is pertinent, such as following up on previous incidents or things to look out for.
When there aren't calls to respond to, police officers will do other kinds of work, such as finishing up reports or obtaining surveillance footage for an investigation. "There are times where we are also present in court," said Lundy.
"When driving around the Community, we're usually doing extra checks and watches or responding to calls and helping the Community. I feel like a lot of people don't realize that side of it. We're not just out making traffic stops or getting our lights and sirens on for calls; there is a lot of work in between."
In regard to how difficult and dangerous the job is, Lundy said that this is definitely the kind of job where you have to expect every day that you could potentially not come home to your family.
"You're there to serve the Community, and that's something that you have to be prepared for every day," said Lundy. "If you're not thinking that way, then you're not staying safe. You have to be prepared to save a life, whether that's pulling someone out of a canal or having to use force. You have to be prepared every shift to do that without hesitation."