Jorge Gonzales is well known for his hoop dancing at many different events around the Valley.
As a Salt River Pima-Maricopa Indian Community member, Gonzales was able to show off his talents with dance group Indigenous Enterprise at Game 5 of the Phoenix Suns' NBA Finals vs. the Milwaukee Bucks at Footprint Center on July 17.
"The performance at the Suns Finals game was more of a last-minute thing, and we didn't expect it," said Gonzales. "We did the whole thing and we got there on time, surprisingly."
But Gonzales, along with Indigenous Enterprise founder and CEO Kenneth Shirley (Diné) and the rest of the team, were up for the task, and they performed for Suns fans just outside of the court in the arena before the game.
SRPMIC music producer, DJ and dancer Tomahawk Bang was also at the performance, playing a DJ set as the group danced while fans were walking into the arena and taking photos and videos.
When that performance was over, what happened next was unexpected. The group was asked to stand behind the game's commentators on live television right before the game started.
"[The commentators] had us behind them for a good three minutes," said Gonzales. It was a very nice historical event, and it was really cool with the Suns not being in the [NBA] Championships in a while. Being a part of history. Even though they lost the finals, the Suns got that far into the playoffs. It was a bittersweet experience. It was really amazing."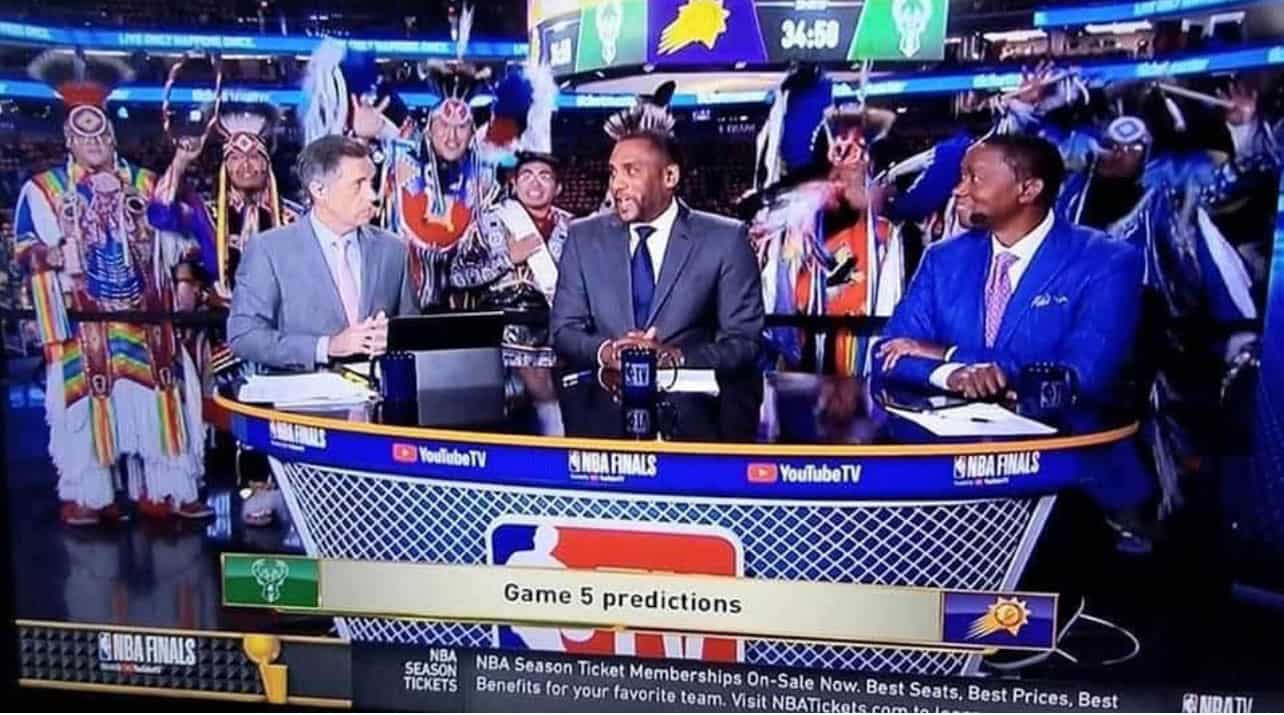 Gonzales also participated with the many groups of dancers out on the field at Native American Recognition Day (NARD) the next day at Chase Field.
"That was also last-minute," said Gonzales. "We got the call that morning. All of us had to run around and get our stuff and run right on over, which was pretty crazy."
The dancers on the field were all from separate groups, performing together all at once across the outfield. This wasn't the first time Gonzales has danced at NARD, and he said he saw both new and familiar faces at the event.
Gonzales has been with Indigenous Enterprise for about four years. He said that he was taught hoop dancing at the Boys and Girls Club Lehi Branch by Kevin Dakota Duncan.
What goes into the hoop dance, like any other powwow dance, is a lot of cardio and flexibility.
"To stretch your arms as far out as you can to make these moves work is very tough, and it requires a lot of coordination because you're spinning and running in a sense," said Gonzales. "Just to have control on your footwork and hand movements and gestures with the hoops, it's a great workout."