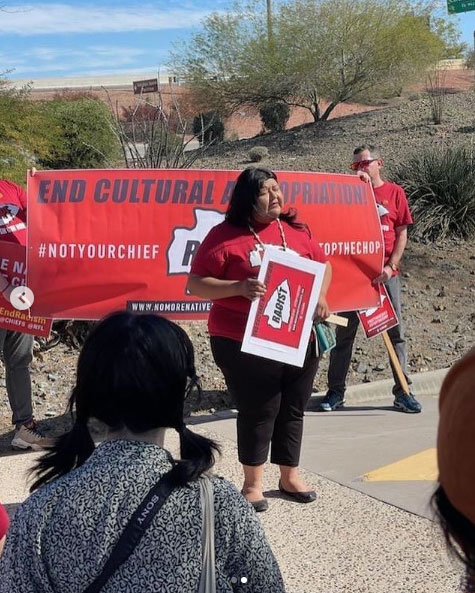 While Super Bowl LVII was being played on traditional O'odham land in Glendale, Arizona, a planned protest by Arizona to Rally Against Native Mascots (AZ Rally), founded by Amanda Blackhorse (Diné), took place outside State Farm Stadium.
The protest, which included some O'odham, called for the NFL Kansas City Chiefs, who were playing in—and ultimately won—the Super Bowl, to retire their team's "name, logo, and any and all Native American appropriation owned and used by the team."
The group said that the appropriation also includes the "big drum" used at home events and the abolishment of the "tomahawk chop" chant at all sports venues.
Instagram videos show protesters chanting "Stop the Chop/Change the Name." During the protest, some Chiefs fans and bystanders mocked the Native protesters with "the chop," while others wore Indian headdresses and war paint or shouted generic Native American chants.
In a statement, AZ Rally said that a psychological study in 2008 showed that Native American mascots decrease the self-esteem of Native American youth while increasing the self-esteem of non-Native youth.
The group hopes to continue to raise awareness about what it feels are harmful effects that derogatory Native mascots and Native-themed nicknames have on Indigenous people.
Pennsylvania State Rep Looks to Fund Discontinuation of Native School Mascots
In a memorandum on February 9, Pennsylvania State Representative Christopher Rabb (D-Philadelphia) asked his colleagues to co-sponsor legislation in an upcoming session that would incentivize Pennsylvania schools to voluntarily eliminate their use of Native-themed mascots.
"It is well established that mascots, logos and the like that stereotype or fetishize Indigenous peoples highly correlate to the alarmingly high suicide rate among Native youth," said Rabb. "At its core, the use of Native American mascots is a denial of the personhood of Native peoples, which has real consequences."
The legislation would provide grants to schools that have a Native American mascot and voluntarily discontinue their use of the mascot. Rabb said that with this legislation, schools would be able to use the grant funds to offset the costs associated with discontinuing the mascot, such as the costs to purchase, redesign or renovate school equipment to remove the mascot.