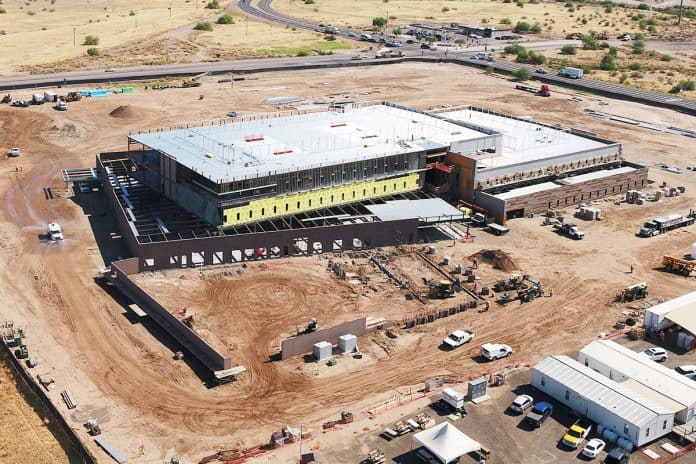 Since July 15, 2019, the Salt River Pima-Maricopa Indian Community has been taking entries from Community members to help name the new Northeast Ambulatory Care Center that is currently being built in the Community. The naming contested ended on January 30, 2020, and the judging panel has finally announced its selection. The winners of the contest were Delilah Enos and Ramona Romo. Both submitted similar entries and helped come up with the new name: River People Health Center.
The goal was to have a name chosen by Community members that would be inspirational and have a strong connection to health and wellness.
"I love the name, because rivers are so important to the health and wellness and well-being of the people," said SRPMIC Health and Human Services Director Joseph Remitera. "It's a symbol for those things. When you think about it, … the river [provides] water [and it] allows you to fish [and] grow crops. [The river] is like the lifeblood of the Community."
The new name was presented at the SRPMIC General Council meeting on October 6. When Council members heard it, Remitera explained, they also liked the name because the new facility is on the banks of a river and the facility itself incorporates many river designs and motifs inside and outside the building.
"We're very pleased with this name and excited to move forward," said Remitera. "Our next step will be deciding on a logo for River People Health Center."
The naming contest was open to SRPMIC members age five years and older, had a limit of two entries per person, and drew 103 entries. The prizes included a 55-inch smart TV, Xbox One, Microsoft Surface Pro, iPad Mini, iPod Touch and a Fry's gift certificate.
The new River People Health Center facility will open in January 2022. To stay up to date on River People Health Center news, visit the SRPMIC social media pages at www.facebook.com/SRPMIC/ or www.instagram.com/saltriverpimamaricopa/.