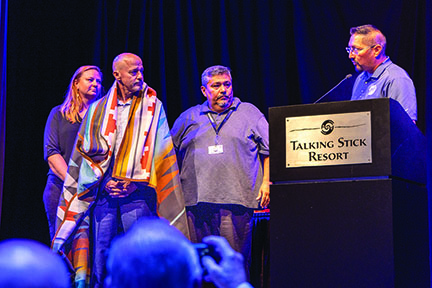 After 15 years of service with the Salt River Pima-Maricopa Indian Community, Office of Emergency Management Emergency Manager Cliff Puckett will hang up his hat and set a course for retirement. For Puckett, it has been a decade and a half serving with SRPMIC, getting to know the people of the Community when he wasn't responding to a crisis situation.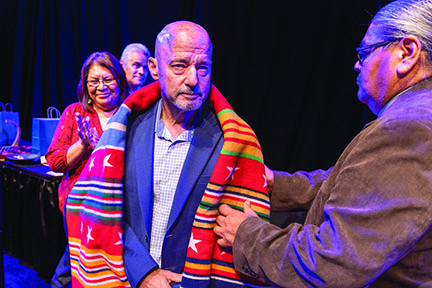 "I never dreamed I would be here for 15 years, but it has been such a great environment to be in," said Puckett. He said what made his tenure at SRPMIC stand out from his previous postings is the support of executive leadership toward emergency management and how the Community comes together in the event of a full-scale emergency.
Puckett was recognized along with his family at a special luncheon held at the Talking Stick Resort on June 28. There, his colleagues and tribal leadership recognized him for his years of service and for his ability to lead a successful emergency management office.
His staff members, along with SRPMIC President Martin Harvier, Vice-President Ricardo Leonard and Council Representative Deanna Scabby, presented him with a special Pendleton blanket. Salt River Fire Department Chief Daryl Dash presented Puckett with an eagle feather.
Prior to joining SRPMIC, Puckett worked for 27 years with the Mesa Fire Department, reaching the rank of assistant fire chief. He also worked as the City of Mesa's emergency manager for six years, until an opportunity came up to bring him to the Community. Puckett said being in close proximity to the Community and working through lateral coordination allowed him to become familiar with the SRPMIC. "The more I looked at the opportunity at Salt River, the more it all came together to be [here]," said Puckett.
Going from a city of 1.5 million people to a much smaller population at the Community did not mean there was less responsibility. He said, "No matter the size of the population, big or small, you still need an effective emergency management plan in place for the people in the event of a natural disaster or emergency."
Puckett said his posting was the first time there was a full-time emergency manager for SRPMIC, and he had to stand up a program that could respond to the needs of Salt River. Planning in advance for disasters and how to respond to them is a big job. "Much of what we do is plan for large-scale events in the Community that take us beyond our normal response, involving multiple public safety agencies," said Puckett.
From historic floods to the recent COVID-19 pandemic, Puckett said it has been a learning experience having to address emergencies of varying scales with the right plan and preparation. "The phases of emergency management are the planning, response and recovery phases; long after the 'dust' settles, there is still more work to restore the Community back to normal," said Puckett.
This includes cross-training exercises with non-emergency departments so they can assist in the event of a crisis, such as the sheltering of Community members due to an unforeseen event.
Puckett said bringing more individuals into emergency management planning involves integrating professionals that are not part of a public safety agency but have much to offer in terms of managing and allocating resources and how their program or department can fit into the planning phase. He added that integrating other emergency responders has been a successful component to understanding how the planning side of an emergency works during a large-scale response.
Consulting is a possible option; he added that he would be interested in sharing his emergency management experience with others, if there is a need for it. "It's all about expanding your view of emergency management, looking at it from different angles and how the planning side of it is essential to future emergency operations," said Puckett.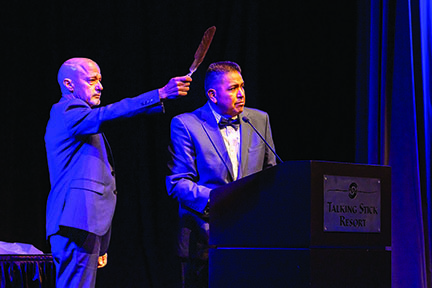 Puckett said that he is looking forward to retirement in the high country of Arizona, although it may be hard for him to adjust. "My wife doesn't think I can do it, being I am a very active person, but I'll definitely take the time to relax and see how it works out."